Redi-Footing Shed Footings as Seen in Fine Homebuilding.
Most sheds require footings. Fine Homebuilding shows how to build a shed using RediFooting for your shed project.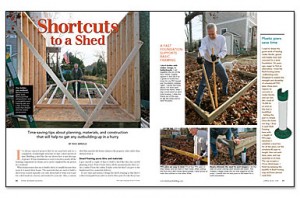 Shortcut to a Shed by Rick Arnold
Easy-to-Use Deck Footings

Prefabricated and easy-to-use, without concrete. RediFooting
deck footings
take the messy concrete out of building your deck or shed with full-strength, easy-to-use deck and shed support.