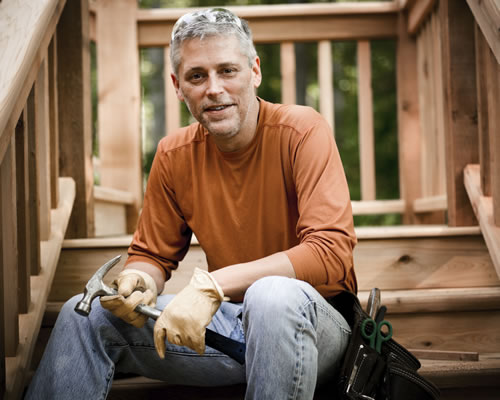 Building a deck, shed — or any outdoor structure — can be both challenging and rewarding.
There's nothing like using your own hands to build something that's such a big part of a home. A lot of sweat goes into it but, when you're done building…it's a pretty good feeling.
But there's one part of the building process that always proves challenging and rarely enjoyable: Dealing with messy concrete and wasting days setting the footings!
Why waste valuable time with messy concrete?

Anyone who has ever mixed concrete knows it's the messiest part of the building process. And concrete can be structurally imperfect unless your cement is mixed exactly as required. Throw in the daunting task of moving, mixing, and pouring concrete and you add 2-3 days onto your project — before you even get a whiff of sawdust.
Redi-Footing is truly amazing. We use it for almost all of our small buildings and deck installations. The savings in time alone pays for this product."

Lee Hayden, President
Yankee Woodcrafters, Inc.
The good news is, you don't ever have to worry about pouring concrete again. Because there's an easier way to build your deck or shed with exceptional strength and safety…
RediFooting: High-Strength, Indestructible Plastic Footings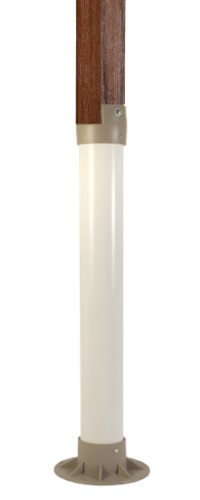 RediFooting, as featured in Fine Home Building Magazine, Bob Vila's website, and Deck Building Professional Magazine is the answer to the age-old question…"How can I build my deck or shed without mixing cement?"
We spent 10 years in research and development to make sure RediFooting was scientifically proven to be stronger than concrete.
RediFooting eliminates the dangerous inconsistency of poorly mixed bags of cement.
Made of high-strength, high-density polypropylene, RediFooting is laboratory tested to have a compressive strength of 3821 pounds per square inch (PSI).
RediFooting supports a 10,200 pound load! (Common residential concrete is only required to have a compressive strength of 2500 psi when used in a residential structure.)
Simply put, RediFooting replaces the need for concrete footings because it's stronger, easier to install, better looking and has the consistent quality concrete footings lack.
RediFooting is practically indestructible!
Forget Carrying Around 50-80 Pound Bags of Cement.

Weighing less than 9 pounds each (once assembled), RediFooting is extremely portable so you can avoid injury to your back. The light weight makes each footing easy to handle and move around your work site until you drop it in the hole.
And unlike bags of cement — which solidify over time with moisture commonly found in a garage or basement — RediFooting can be easily stored for later use without any issues or problems. Store RediFooting in your garage or shop until you're ready to build your deck or place your shed.
Save More Than Just Your Back, Your Time, and Your Energy.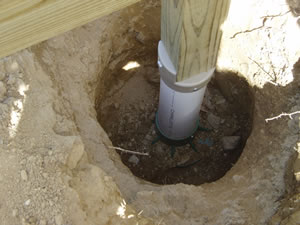 If concrete footings are used, you can expect to have to mix three to five bags of cement per each hole. That means lifting 350 pounds in total while hoping the bags don't tear pouring each bag into your mixer or wheel barrel…adding just the right amount of water and additives…and moving your mix as close to the hole as possible.
Then, after you pour the concrete, your project is on hold as you wait two-to-three (or more) days for your footings to be ready (if the weather and temperature are just right).
That's a cost of $30-$40 per hole — not including labor costs if you're a professional. (And I'm sure your time is pretty valuable even if you're not a pro!)
You'd think with all the time and energy each RediFooting will save you, the cost for each footing would be more than concrete. But that's not the case…
Each RediFooting set includes the cap, base, and all required hardware for just $32.95 each plus shipping. All you have to add is the PVC schedule 40 (220 psi), available at any home improvement store.
Just wanted to let you know how much I like your footings. Have put in 3 of 4 so far and find them easy to work with. I am a 64 year-old female and I am having no trouble putting them in by myself…Thanks for the great product!" -Sharon Ziemek
Easy to Use RediFooting Lets You Build Faster in Just a Few Simple Steps

RediFootings are so easy to use, in just a few steps you can get started with the fun part of actually building your deck.
Once you've assembled your RediFootings with the required 4-inch schedule-40 PVC pipe, you're ready to start building with just a few simple steps!
1. Cut the PVC to proper lengths (per local code) and assemble each footing in under 3 minutes.

2. Dig the holes to the required frost-line depth.
3. Drop in your RediFooting.
Within an hour or less, you're building your deck or shed!
You won't have to spend a day mixing concrete, having someone else hold a barrel still as you try to pour the concrete into your holes without wasteful spills.
And don't worry if your RediFooting is out of place or misaligned. If, by chance, your holes are off…it's never too late to move or shift your footings for better placement!
Try moving a 42-inch deep concrete footing!
Ready to start building your deck, shed, or outdoor structure?
Start building your deck or shed right away the easy way with RediFooting deck and shed footings.
To get started, just click the button below to order RediFooting or call us today (866) 586-6082.
Place your RediFooting order with any major credit card
For any inquiries, please contact the office by phone at (866) 586-6082 (toll free) – Monday through Friday, 9am – 3pm EST.