Here's where you can read some of the documentation about RediFooting, including a link to the installation instructions and the science behind our deck and shed footings.
For more information about our footings, you should also visit our Frequently Asked Questions page.
The engineering test was completed in 2002 by Geisser Engineering Corporation and RediFooting has been used to build thousands of decks, sheds and other outdoor projects since. The results of the Engineering test is what you may need to provide to your building inspector. If you have any questions please contact us here.
Technical Specs and Engineering Test Results
This is the engineering documentation you may need to provide to your local building inspectors if requested. Redi-Footing has been thoroughly tested and has been used in the construction industry for over 15 years.
Geisser Engineering Corporation performed the required testing and the attached documentation shows the testing results and proof of durability and strength. Read the engineering test results here.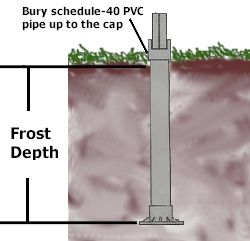 Redi-Footing Typical Deck Application
This drawing shows the details of standard deck construction using Redi-Footings for the footings.
Step-by step instructions by contractor Mike Guertin, with photos showing you how fast and easy it is to assemble each Redi-footing and start building your structure.